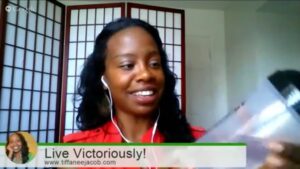 Hi! I'm Tiffanee… learning and sharing tools to live victoriously!
Before getting started on this journey, I was totally lost, suffering from depression, and didn't have any hope or vision for the future. It got to a point where I was so shaken and overwhelmed by every new challenge life had to offer that I even became suicidal, thinking that I was going to utterly lose at everything that was lying before me.
After discovering some basic principles… I found a new and exciting purpose and began creating some practical tools that helped to get me from a pit of confusion and despair, and walking into the victory that was there for me all along. They helped me to simplify, get strategic, and start living my God-given purpose.
My desire is to continue on this journey and share the weapons or tools that I used to win in these areas.
If you are new here, or venturing into something new in life or business, I want to encourage you to get strategic with this truth in mind. Start today by downloading your free eGuide, Six Ways to Simplify your Life and Business Now.
Are you ready to go further? Then join us on the next FREE Webinar: ReBoost Your Life, Reveal Your Purpose. Learn more here.
Here's to your success!